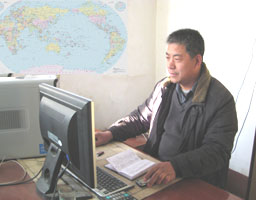 Tree Peony is the National flower of China, standing for "National color and Heavy Fragrance" "King of all the flowers", it is the symbol of happiness and prosperity forChinese people.
Yongji Yanzhuang peony Technology Development
Co. Ltd. is a Professional company with the fixed assets of RMB10,000,000.00, covering an area of 133,500.00 square meters; in line with latest growing technology and market orientation, we have developed a large varieties of flowers including tree peony, Herbaceous Peony, shrubs and bonsai in total number of 550 kinds, of which the area of Shaoyao reaching 66,600 square meters including over 100 varieties, apart from those we have modern greenhouse in area of 1000©O;
Our tree peony and Shaoyao have been sold to Luoyang, Xian, Beijing, Hangzhou, Guangzhou, Shenzhen and other domestic cities, and exported to Japan, US, UK, Holland and other countries.
Mr.Zhao Xin Jun, the general manager of Horticulture Department and all staff warmly welcome friends from abroad and domestic visit our company.
Adress:No.1189,Guohua Community,Mudan North Road,Heze,Shandong,China